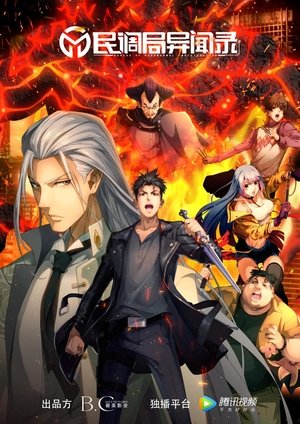 Bureau of Paranormal Investigation
民调局异闻录
Overview
In the task of catching drug lords in the Yunnan border, a special forces team accidentally enters the ancient caves of the ancient Shu, and intruded on ancient rituals. The squad was almost completely annihilated. Only Shen Shuang and the anti-drug police Sun Desheng survived, as they were rescued by a mysterious white-haired man named Wu Hao. After this incident, the two men accidentally entered the "Civil Affairs Investigation and Research Bureau" and gradually became entangled in more supernatural events, revealing the veil of another world.
Seasons

Season 1
Bureau of Paranormal Investigation (Min Diao Ju Yi Wen Lu) 民调局异闻录
Watch Donghua Chinese Anime Series 2020 Bureau of Paranormal Investigation, Min Diao Ju Yi Wen Lu, 民调局异闻录. The special forces were born with yin and yang eyes during the task of capturing the drug lord at the Yunnan border, they accidentally enter the cave of the ancient Dian Kingdom and found monster ancient corpses.
Shenla's army was almost wiped out. At this critical moment, the mysterious white-haired man Wu Mian saved Shen La and anti-drug policeman Sun Desheng. After the mummy incident, the two of them accidentally enter the Bureau of Investigation and Research of Folklore Affairs and gradually grow up amidst the supernatural events, exposing another world. It is a world that is omnipresent but unknown. In this world, there is a mysterious department hidden from the eyes of the world with enormous magical power.
There is a group of humans who live both with esoteric arts and those who are outside reincarnation. As far as all living things are concerned, they are invisible and formless, but tangible, strong shields. To the evil spirits, they are thorns in the flesh that make people want to get rid of them immediately. To themselves, They are only human flesh with love and hatred, joy, and sorrow. They are in the big world, and they are insignificant, but they are very important.
Donghua Info.
| | |
| --- | --- |
| Other Names: | Bureau of Paranormal Investigation, Min Diao Ju Yi Wen Lu, Occult Investigator's Strange Record, 民调局异闻录 |
| Producers: | Tencent Penguin Pictures |
| Country: | China |
| Episodes: | 12 |
| Status: | Airing |
| Release: | Aug 7, 2020 |
| Genres: | Actions, Adventure, Supernatural, Thriller |