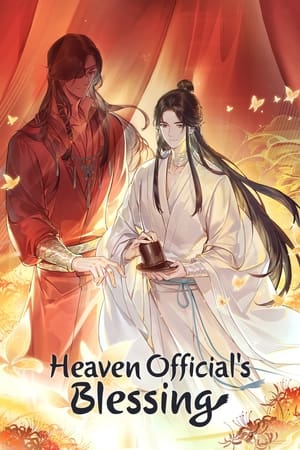 Heaven Official's Blessing
天官赐福
Overview
Xie Lian, the crown prince of Xian Le Kingdom, successfully ascends to Heaven during his third trial in spite of successive demotions. However, he accidentally breaks the Gold Palace of heavenly officials. With no human worshiping him, Xie Lian has to descend to the secular world to exorcise ghosts, which may help him sustain his divinity.
Cast
Jiang Guangtao
Zhengyang Ma

Yi Zhao
Tu Xiongfei
Seasons

Specials

Season 1
Season 2
Heaven Officials Blessing Season 2  天官赐福 第二季
Watch Online Donghua Chinese Anime Series Heaven Officials Blessing Season 2, Tian Guan Ci Fu, 天官賜福 貳. The story is about The Royal Prince of Xianle, Xie Lian, who was demoted for the third time. But after being demoted, he accidentally destroyed the priests' golden palace. So he can only descend into the earth to obliterate ghosts in exchange for services as compensation.
In the experience of the mortal world, Xie Lian meets two little priests and a person named Huacheng, the king of deceit. Together, the four of them solve complicated incidents and gradually connect with seemingly glamorous immortal beings. A tragic priest's past story.
Donghua Info.
| | |
| --- | --- |
| Other Names: | Heaven Official's Blessing Season 2, Tian Guan Cifu 2nd Season, Tian Guan Ci Fu, 天官賜福 貳 |
| Producers: | Bili Bili |
| Country: | China |
| Episodes: | ? |
| Status: | Airing |
| Release: | Oct 18, 2023 |
| Genres: | Actions, Adventure, Historical, Supernatural, Drama |